Wow… seriously… wow. I'm not sure where to even begin with this one. There's a celebration going on. A big parade will be involved. And it's in Philadelphia. Do you understand what I'm saying? Philadelphia, my home town, which has suffered through some of the worst moments in sports history, gets to throw a ticker tape parade for one of the oldest franchises in professional sports. The Philadelphia Phillies have broken the "Curse of Billy Penn" and become the 2008 World Series Champions.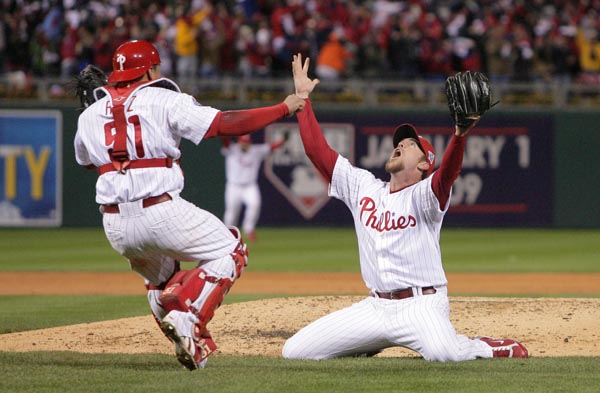 I've had a post about life as a Philly fan planned for awhile. Maybe I'll still write it to give you guys some perspective. People will still try to convince me they understand the pain because one team they follow hasn't done well in a while. But that's nothing compared to growing up with an expectation that championships are for other teams and other towns because they never involve you. Suddenly that image has been shattered thanks to a rather unorthodox game that took over 48 hours to complete.
I'm serious about it being shattered. You want to know what 25 years of misery disappearing in an instant looks like? Watch this video from the Phillies club in Hoboken during the final pitch (courtesy of Furey):
Yeah, wish I could have at least been there. Immediately following the game there was a whirlwind of phone calls between myself, my mom, my dad, my friend Mark, and my sister Kathleen, who lives farthest from home of all of the siblings. While I may be a frustrating 2 hours away from the big celebration, the 15-20 hour drive from Alabama (depending on whose directions you take) is a far greater challenge for her. And thus we both lamented being away from the city at a time like this. The idea of taking off work tomorrow to drive down for the parade has been beaten back several times today.
At least I can revel in all of the highlights playing nonstop for the next few days, including this tremendous video of the great Harry Kalas finally getting to call that last out in a World Series victory (the MLB wouldn't allow local announcers back in 1980):
Yeah, it's totally lame that I haven't posted in over a month and the first sign of life is some ramblings about sports (why don't I just throw in some political discourse while I'm at it), but this post has been a quarter century in the waiting. And while I'm one of the first people to complain about the ridiculous salaries of ball players and the disconnect from the fans, this team was just filled with great stories to get behind (and watching them celebrate makes it hard to believe they don't feel it, too):
Charlie Manuel managing his team to the championship while dealing with the loss of his mother.
45 year-old Jamie Moyer finally making it to the World Series with the team he cheered on as a kid (he was even at the parade in '80).
On the opposite end, Cole Hamels absolutely dominating the playoffs (and winning 2 MVP awards) for a team that last won it all 3 years before he was born.
Brad Lidge achieving true perfection while clinching the championship and shook the monkey that was the 2005 playoffs off his back.
Ruiz's infield RBI single in the bottom of the ninth against a stacked infield to win game 3.
Journeyman Matt Stairs with his pinch hit homer to win game 4 of the NLDS.
Memorable plate appearances by pitcher Brett Meyers in the NLDS and NLCS followed up by Joe Blanton home run in the WS.
Burrell doubling to start the bottom of the 8th in game 5 after not having a hit all series. That turned into the winning run.
Utley's clutch throw to home in the top of the 8th to preserve the 3-3 tie.
Guys like Howard, Werth, Utley, Burrell, Feliz, Ruiz, etc. all took turns being the hero, it's hard to mention everybody and I'm no sportwriter. Thankfully there's guys like Phil Sheridan and Bill Lyon, writers who guided me through sports as a youngster, to put into far more eloquent words the thoughts and feelings I'm bumbling through. Then again, maybe it's the simpler words of Lidge that sum it up best: "This is our time right now, and I don't give a crap about all the rest."
So yeah, I'm riding a bit of a high today because, for the first time since I became a sports fan, it's my team.
P.S. Along with all of the furious Wikipedia edits that were made last night, the most important update was also made: the clock has been reset!